Cohesive Technologies to Exhibit with Epygi at IFSEC India 2018
DELHI, INDIA (November 20, 2018) — Cohesive Technologies, a leading System Integrator and Distributor of VoIP products in India/APAC, announced today that they will be exhibiting with Epygi at "IFSEC India 2018 – Visitors can grab the opportunity that Cohesive Technologies and Epygi will together showcase at stall number A-1, HALL NO – 9 on 5-7 December, 2018 at IFSEC Pragati Maidan – Delhi.
Cohesive Technologies along with Epygi has opened up new business opportunities across the world. Apart from the product display Demonstration of Epygi.
This year Epygi with Cohesive Technologies will make the visitors, delegates aware of innovative products of VoIP & Surveillance and the essentially desired Security features their products have.
At IFSEC India 2018, Epygi with Cohesive Technologies will introduce their all products which belong to Unified Communication Systems & Gateways, Converged with Surveillance & Security Solutions which has very powerful yet easy-to-manage voice, video, data and mobility solutions for all segments.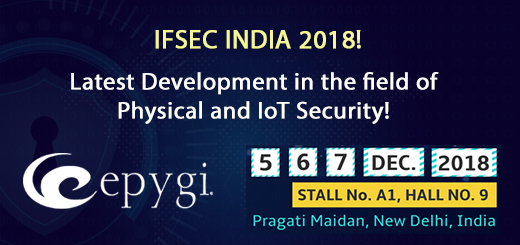 About IFSEC India
The International Fire & Security Exhibition and Conference (IFSEC) India Expo, South Asia's largest security, civil protection and fire safety show by UBM India, is gearing up for its 12th edition which is slated for December 5th – 7th  at Pragati Maidan, New Delhi. The show brings together internationally renowned exhibitors, consultants, business experts and key government officials under one common platform.
IFSEC India 2018 is poised to cement its position within the global security market. The event plays host to 18,000 industry buyers and decision makers, key trade markets and the growing end-user community including key government attendees attending to review the latest products and innovations, build business partnerships conduct business and make purchases.
About Epygi
Epygi Technologies, Ltd., a worldwide provider of award-winning IP PBXs and Gateways supporting small businesses to enterprise's telephony needs, is a private US company founded in 2000 and has its headquarters in Plano, Texas. Reliable, secure, and easy to install and use, the Epygi products offer users outstanding benefits and an unparalleled range of features at very economic prices. Customers are able to improve their productivity; lower operating expenses and enhances their image while affording the latest in telecommunications equipment.
Visit www.epygi.com
About Cohesive Technologies
Cohesive Technologies is a solution provider of VoIP and unified communication Platform. Cohesive Tie-up with Technology Partners like Grandstream, Epygi, Digium, Cyberdata, Milesight and Yeastar not only helps to provide a variety of VoIP solutions but also ensures state-of-the-art technology solutions with scalable and reliable systems. The main goal is to make communication easy and cost effective so that business can thrive and continue to run smoothly.
For more information, please visit www.cohesiveglobal.com for more information or connect with us on Facebook, LinkedIn and Twitter.
To know more about the Event and for Registration, Please click here