Cohesive Technologies to Exhibit with EPYGI at Smart Cities India 2019
New Delhi, India – Cohesive Technologies, a leading System Integrator and Distributor of Security Surveillance products in India/APAC, announced today that they will be exhibiting with Epygi at "Smart Cities India 2019".
The 5th edition of the exhibition mainly focuses on products of 4 major areas which are helpful in making smart cities such as Building India, Solar India, Transport India and Water India.
At Smart Cities India, Cohesive Technologies will showcase Epygi's IP PBX (QX3000) and QXE1T1 Gateway.
The IP PBX (QX3000) is a complete solution that supports up to 3,000 users and is capable of handling 500 concurrent calls and many advanced features for the QX3000 can be enabled with a software license in order to make the cities smarter. The Smart ACD Control with Auto Dialer and Automatic Outbound Calling with Browser based Productivity Tools helps a lot in Command Centre to monitor the Incoming and Outgoing Call Traffic (Voice -Video)
The QXE1T1 Gateway features 30 channels for E1 and 24 channels for T1 of compressed G.729 codec and conforms to a broad variety of voice codecs and signaling protocols. The QXE1T1 Gateway also includes call routing and auto attendant capabilities, voice prioritization over data and sophisticated firewall and security elements. The main function of this Gateway is primarily to bridge traditional PBX traffic to the Internet, thus reducing costs and simplifying system administration.
Come to 3-day exhibition of Smart Cities India to explore all the innovative products of Epygi.
Cohesive Technology integrates and design solutions which use state of art technology and delivers the Value added solutions, based on customer insights and our promise of Convergence. Cohesive Solution acts as a centralised system for a range of SIP-enabled devices. These devices go beyond what telephony personnel usually support such as surveillance devices, card readers, paging systems, cameras, and door stations.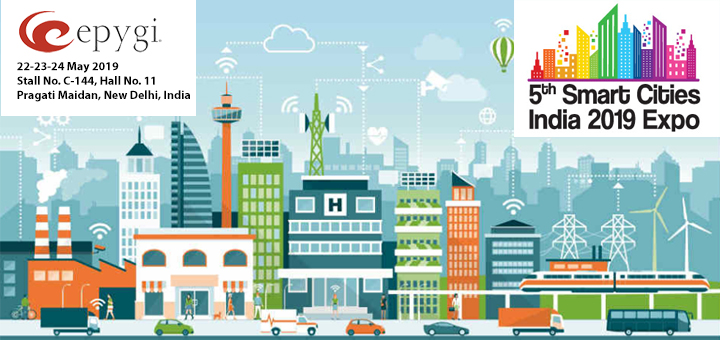 Details of Cohesive Technologies participation at the Smart Cities India 2019
Where: The event will take place at Pragati Maidan, New Delhi, India. All attendees can visit at Booth No. C-144, which is located in Hall No. 11.
When: The solution demos will take place from 10:00 AM till 6:00 PM from 22 May to 24 May 2019
About Epygi Technologies
Epygi Technologies, Ltd., a worldwide provider of award-winning IP PBXs and Gateways supporting small businesses to enterprise's telephony needs, is a private US company founded in 2000 and has its headquarters in Plano, Texas. Reliable, secure, and easy to install and use, the Epygi products offer users outstanding benefits and an unparalleled range of features at very economic prices. Customers are able to improve their productivity; lower operating expenses and enhances their image while affording the latest in telecommunications equipment.
Visit www.epygi.com
About Cohesive Technologies
Cohesive Technologies is a solution provider of VoIP and unified communication Platform. Cohesive Tie-up with Technology Partners like Epygi, Digium, Milesight, Grandstream, Yeastar and Cyberdata not only helps to provide a variety of VoIP solutions but also ensures state-of-the-art technology solutions with scalable and reliable systems. The main goal is to make communication easy and cost effective so that business can thrive and continue to run smoothly.
For more information, please visit www.cohesiveglobal.com for more information or connect with us on Facebook, LinkedIn and Twitter.