Benefits of Grandstream Video Conferencing System which Improve ROI
The tangible benefits which you may associate with a video conferencing system are many. This is a great system which acts as a perfect communication tool for students, working professionals, and business professionals. Any video conferencing system can be a good blend of audio, video and PC technology. Hence, people can connect with each other irrespective of the location. With the help of the same, interaction with different users becomes really with exciting sound effects that give it a clean look. So, you can now easily start a video conference that gives you the confidence to explore technology in a new way.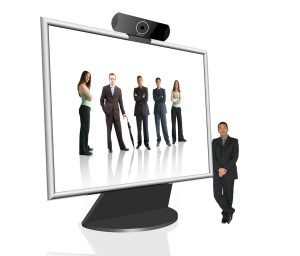 Top features to look out for in a premier video conferencing system
In any premier video conferencing system, there are certain top features which come out with all optimistic features. Once you know as to what are the features to stress upon in a video conferencing system, it can be really easy to pick the right one. Some of the top features which you should always stress upon while making an apt selection are –
Extraordinary video and audio capabilities
Privacy feature in the form of password capabilities
The effective desktop sharing feature
Simple yet intuitive software
No need to perform any downloads
Fully customizable and brand-able
Apart from the above-listed key features, it's also necessary to know that the video conferencing system which you choose comes out with power-packed moderator control facility. In addition, you can enjoy the file sharing feature which helps you to share documents without any confusion.
An Automatic choice among all types of businesses
The reduction in the prices of video conferencing systems has motivated organizations of all sizes to opt for them. If you take a look a few years back, you would realize that only big organizations could afford these systems because of higher cost. However, this stuff becomes affordable nowadays and thus you can easily get familiar with all beneficial solutions. A GVC3210 Video Conferencing System facilitates users to communicate easily via video and audio. It helps users to get a better experience making life easier
The significant and drastic improvement in the usability, accessibility, and quality of video calls makes it easier to generate higher sales and ROI. This serves as an important aspect to consider while you are planning to expand your business.
What's the stand out factor of a video conferencing system?
Grandstream Video Conferencing System is an ideal choice, which gives you higher efficiency with a user-friendly backdrop. You can now execute the projects within the specified deadline that helps you to increase the overall productivity. You can now get familiar with all beneficial results that give you the opportunity to explore the smarter features using the system.
One key feature of GVC3210 Video Conferencing System is that it comes out with a Noise-Shield technology, which is a sophisticated one. Thus, you can carry on a video calling free from any interruption. Other features users can enjoy are like high-end 16 pixel CMOS sensor, high HD video resolutions, built-in Bluetooth, advanced camera option and integrated dual-band Wi-Fi. The system runs on Android OS along with Google Play Store that turns out as another useful feature. So, if you are looking for a good option with high-end technology this can be a nice one.
Real-Time Benefits
Using the system you can get a great experience equipped with all powerful technologies that give you the best solutions as you need. It supports resolution up to 4K Ultra HD that gives you a clear video helping in carrying out a perfect conference call. Pairing with other devices you can also begin a multi-point conference calling that helps you to give your business a new start. And the advanced 4-microphone array comes out with beam-forming capability. It makes it easier to handle all the features in the right way. The ePTZ camera gives you a better view and thus you can explore the real-time benefits of the system. It thus helps you to turn out with a suitable conference call featuring a smarter backdrop as you want. The powerful video conferencing endpoint also turns out as another useful feature. It enables you to get familiar with all positive aspects.
Here, you also get dual-band wi-fi that makes it a smarter one accompanied with all effective options as you need. Alongside, it also provides web conferencing service due to which you can get easily connected accessing all feasible solutions. And you can get the 90 FOV wide-angle lens, which is another important feature offering suitable benefits. Thus, you get a better picture quality exploring how technology helps you to travel the Universe via the virtual medium. It also provides support for external audio equipment due to which you can get a good sound quality.
A Nice Presentation
Using the video conferencing system you can come out with a nice presentation for the audience. It helps you to get access to all beneficial options. It gives you the confidence to prepare a perfect business presentation that helps you to manage your business activities in a proper way. Technology thus gives you all effective solutions that help you to establish a better set up. You can now come out with a smarter backdrop that helps you to explore your business in a nice way.
You can now easily arrange client meetings online via the video conferencing system. It helps you to increase the overall profit margin. Taken as a whole, you can get familiar with an excellent audio and visual experience where technology plays the leading role. Thus, you can now come out with a great profession handling clients all across the World free from any worries.