The Benefits of VoIP For Your Business
This blog was originally posted on Yeastar.com
What is your best bet when looking for an affordable, effective telecom solution? Chances are, you've heard that VoIP is the best option, and for good reason too! VoIP is an excellent choice for tech-forward companies that need a reliable phone system.
Unfortunately, once you scratch the surface, things get a bit murky. You may wonder, exactly how a VoIP system will add value to your business. It's time to clear things up. The following points are key ways in which VoIP can benefit your company.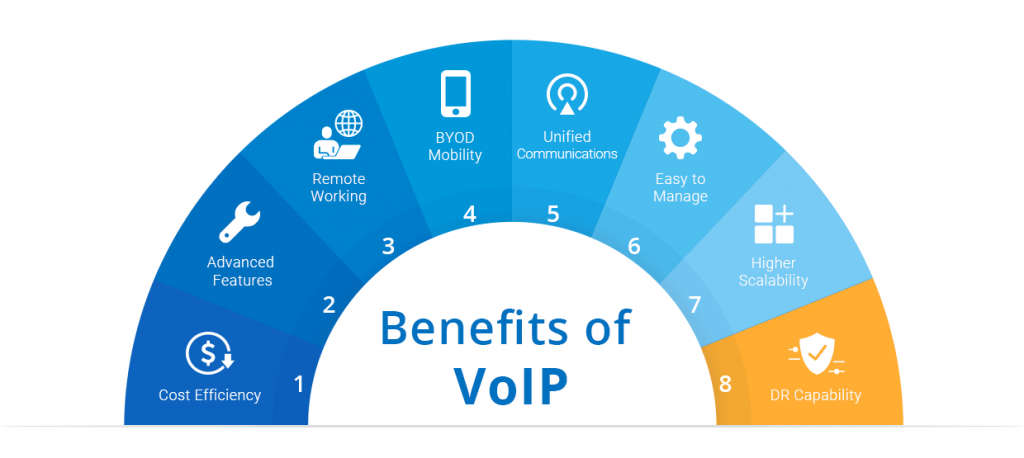 1. Attractive Per-Call Pricing
VoIP takes the job of making phone calls away from physical, comm lines. Instead, it makes use of Internet Protocol (IP) to send and receive calls. Essentially, the voice data is converted into network packets. These are then sent via the IP network you've chosen. This network could be a dedicated IP connection through your phone provider or a high-speed internet connection. In some cases, your solution could use both. If you choose to use your telephone provider's network, you will be entitled that your service will meet basic quality standards. Keep in mind that this does not apply if you use an internet connection.
Compare that to using a landline solution. To do that, each call must be transmitted via a dedicated line. You are only able to install a finite number of these lines. This leads to resource contention, which results in high prices. VoIP doesn't have these physical limitations or associated costs.
Keep in mind that in many instances, businesses choose VoIP because they are able to make and receive local and long-distance calls for free within their country. For example, as long as a business selects a number with a United States area code, they will be able to make and receive calls within the Continental United States for free.
2. A Great Option For Businesses on the Go
If mobility is a key feature of your business, VoIP can be extraordinarily valuable to you. This is a portable service that you and your team can take anywhere.
Consider a traditional phone system with a line running directly to your business with a dedicated phone number. Yes, you can arrange call forwarding or transfer services if you need to. However, that's a multiple-step process. It's also a pain to remember various access codes, and navigate menu systems.
If you use VoIP, you eliminate all of this complexity. Mobility is simply built into the system, and you are able to move around as you need.
3. Wide Array of Features
You won't have your VoIP system for long before you realize it's a true productivity tool. It will allow you to use top of the line devices while maximizing your use of a variety of features.
For example, you can engage with an important client over the phone. At the same time, you can pick up voicemails that have been automatically converted to text and routed to your email. Need to forward a voicemail to your entire team? You can do that with just a few clicks.
These are just a few of the attractive features that can be found on modern VoIP systems.
4. User-Friendly Conference Calls
Unless your business is one of the very few that hasn't been impacted by Covid-19, you've likely been participating in more conference calls than ever. If you implement a VoIP solution, conference calls become that much easier. Rather than using a limited set of dedicated phone lines, VoIP allows you to create and manage conference calls over a data network. You'll never have to worry about having enough lines for each participant.
What if you stick to a traditional phone system? In that case, you'll have to pay a premium for a service that will allow you to create and host conference calls for multiple participants. Why do that when this capability is already built into your VoIP? All that is required is for you to take advantage of this feature.
5. Improved Interactions With Customers
The world has gotten smaller over the years. A company you do business with could be headquartered anywhere. Further, workers are no longer tethered to a single location. This could lead to complications when it comes to handling crucial phone calls, managing voicemails, even getting important documents to the right place.
By using a VoIP phone solution, you give yourself control over where you receive calls. You may even be able to select an option that forwards calls to your home office after a few rings, then to your assistant's phone if you don't answer. It's also possible to have a single call forwarded to more than one device. This ensures that important calls are going to be picked up by someone.
You can even use your updated phone system to help with document management. You and your team members can use VoIP to e-fax important documents. That's a better alternative to searching out fax machines that are increasingly difficult to locate.
6. DR Compatible Solution
Naysayers will tell you that your VoIP system will go down if the internet isn't available. In truth, this doesn't have to occur at all as there do exist reliable DR solutions for VoIP systems.
For instance, if you have a hosted system, all the phone services are delivered to the cloud by your provider. If something really happens to your office and the internet in your workplace goes down, you can just relocate your employees and they'll be able to continuously work from anywhere.
If you are using an on-premises system, you can also work without worrying a thing by setting up a backup plan in advance, such as the resilient 4G LTE failover and a hot standby solution.
Yeastar VoIP Options
Yeastar offers VoIP choices that meet your needs today, and as your business grows. Depending on your specific requirements, you can select an on-premises or cloud-based PBX system. There are benefits to each.
If you select a cloud-based VoIP system you virtually eliminate maintenance costs. In addition to that, this is an excellent choice for companies that have multiple locations. With everything in the cloud, your team can access the network no matter where they are. Thanks to the Linkus UC Softphone, your team will be able to use every feature available on their desktops, Android, and iOS devices.
If you need a more tailored solution, where you can fully control your business communications, then the S-Series VoIP PBX system might be the choice for you.  Easy to use, flexible, and feature-rich, this on-premises system is designed to help small and medium-sized businesses make a giant leap in efficiency and cost-savings. It also works with the Linkus UC Softphone to give users access to features like voice calling, instant messaging, conference calls, CRM, and presence.
This is also a great option for companies with a legacy PBX system. The S-Series will integrate perfectly allowing you to continue to use your existing systems and devices.