Cohesive Technologies at ConnecTechAsia2018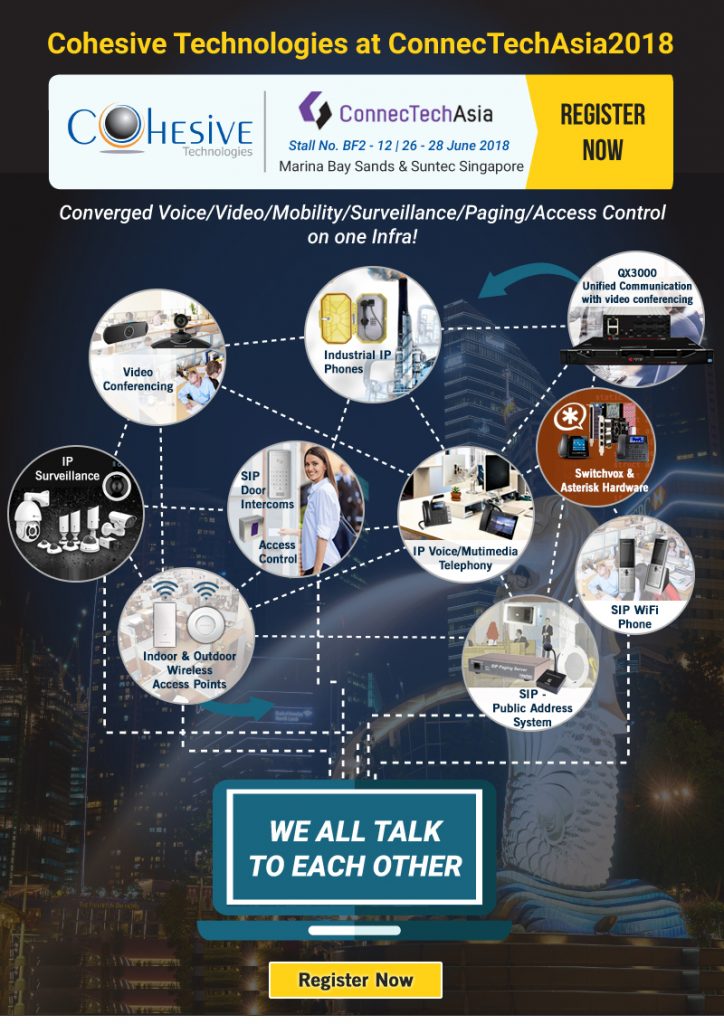 About ConnecTechAsia 2018
ConnecTechAsia, the brand new umbrella event encompassing CommunicAsia, BroadcastAsia and the new NXTAsia, is where technology, ideas and business converge. ConnecTechAsia is Asia's only B2B platform that covers the entire spectrum of communication, broadcast, and enterprise technology and services catering to the needs of the industry in Asia and beyond, providing the technological innovation and thought-leadership that will help pave the way towards a brighter and more connected world.
Experience the future at ConnecTechAsia, through a plethora of experiential programmes, including the high-level ConnecTechAsia Summit, technological showcases and complimentary value-added activities on the showfloor.
Visitor Registration –  https://www.connectechasia.com/exhibit-attend/visitor-registration/
Newsletter –  http://www.cohesiveglobal.com/mailer/ConnecTechAsia2018.html
About Cohesive Technologies – 
Cohesive Technologies is a Global Telecom Solution Provider on VolP and IP Platform As well a leading Integrator and Solution Provider with the Best Innovative IP Solutions which adds value to Customers through a combination of different high end technologies for a true Converged Solution.
Working with Technology Partners like CyberData, Grandstream, Epygi, 2N, Digium, Milesight, TelephonyKart & Yeastar helped us delivering state-of-the-art-technology Products to Premise and Cloud based requirements for various companies that span across multiple segments.