Cohesive Technologies to Exhibit with Cyberdata at Smart Cities India 2019
New Delhi, India – Cohesive Technologies, a leading System Integrator and Distributor of Security Surveillance products in India/APAC, announced today that they will be exhibiting with Cyberdata at "Smart Cities India 2019".
The 5th edition of the exhibition mainly focuses on products of 4 major areas which are helpful in making smart cities such as Building India, Solar India, Transport India and Water India.
This year CyberData with Cohesive Technologies will make the  visitor delegates aware of innovative products of VOIP which can help to make the cities smarter and the value added benefits each industry can receive from true convergence of all the products on platform including the newly launched Multicast Speaker  011458 which is cost effective and comes with latest technology.
Come to 3-day event of Smart Cities India to explore and experience the FUTURE of SIP Public Address System & Door Intercom in making our livelihood smart.
Cohesive Technologies integrates and design solutions which use state of art technology and delivers the Value added solutions, based on customer insights and our promise. Cohesive Solution acts as a centralised system for a range of SIP-enabled devices. These devices go beyond what telephony personnel usually support such as surveillance devices, card readers, paging systems and door stations.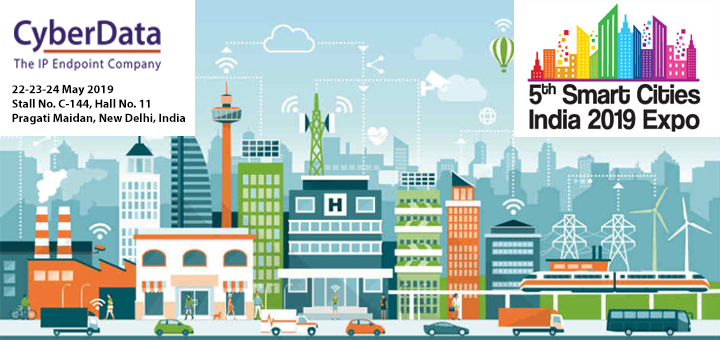 Details of Cohesive Technologies participation at the Smart Cities India 2019
What: Cohesive Technologies will demonstrate with Cyberdata?
Cohesive Technologies will demonstrate all the innovative products which are helpful to make the cities smart and also demonstrate the newly launched secure access control products of Cyberdata.
Where: The event will take place at Pragati Maidan, New Delhi, India. All attendees can visit at Booth No. C-144, which is located in Hall No. 11. The stall will showcase all of Cyberdata powerful yet easy-to-manage voice, video and data solutions.
When: The solution demos will take place from 10:00 AM till 6:00 PM from 22 May to 24 May 2019.
About CyberData
Founded in 1974 in Monterey, California, CyberData Corporation is a leading OEM design and manufacturing firm with more than 40 years of experience. Specialize in IP Endpoints for the VoIP marketplace, VoIP and POS (Point-of-Sale) connectivity solutions, and POS protocol conversion technologies.
CyberData Develops and manufactures products that are known for quality, reliability, ease-of-use and durability. They have a full service prototype-to-production capability. Reputation has earned numerous OEM relationships with companies such as Epson, Dell, HP, Atlas IED, Additech, Fujitsu, NCR, Wincor-Nixdorf, and Bixolon.
Visit www.cyberdata.net for more information.
About Cohesive Technologies
Cohesive Technologies is a solution provider of VoIP and unified communication Platform. Cohesive Tie-up with Technology Partners like Epygi, Digium, Cyberdata, Grandstream and Milesight not only helps to provide a variety of VoIP solutions but also ensures state-of-the-art technology solutions with scalable and reliable systems. The main goal is to make communication easy and cost effective so that business can thrive and continue to run smoothly.
For more information, please visit www.cohesiveglobal.com for more information or connect with us on Facebook, LinkedIn and Twitter.