Cohesive Technologies to Exhibit with Milesight at Convergence India 2023
New Delhi, India – Cohesive Technologies, a leading provider of unified communication solutions, today announced its participation in Convergence India 2023, the premier technology event. The company will be showcasing its latest products and solutions in collaboration with Milesight, a leading provider of network cameras and video surveillance solutions.
Convergence India 2023 is one of the largest technology events in India and is expected to attract thousands of industry professionals, government officials, and media representatives from across the country. The event will feature the latest innovations in telecommunications, networking, and IT, and is an important platform for companies looking to showcase their products and services.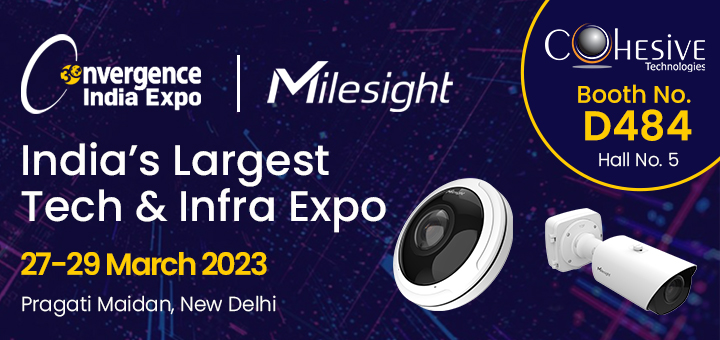 Cohesive Technologies will be exhibiting alongside Milesight, showcasing its new launches i.e. 5G AIoT Bullet Plus Network Camera, VMS Enterprise integrated with paging system – Make Video Management Simpler, Smart Crowd Management Solution, AI Road Traffic Radar Bullet Camera where you can capture and read the plates accurately when vehicle approaches, Milesight Parking Management – a new and smarter way to do parking management in which it can detect whether the parking space is free or occupied with dual ultrasonic sensor where the status is transmitted to Milesight Gateway & much more.
Convergence India 2023 will be held from March 27-29, 2023 at the Pragati Maidan Exhibition Centre in New Delhi. Cohesive Technologies and Milesight will be exhibiting at Hall No. 5, Booth #D484. For more information on the event, please visit https://www.convergenceindia.org/.
Cohesive Technologies integrates and designs solutions that use state-of-the-art technology and deliver value-added solutions, based on customer insights and our promise of Convergence. Cohesive Technologies acts as a centralized system for a range of SIP-enabled devices.
About Milesight
Milesight is a fast-growing high-tech company delivering smart IoT and video surveillance products with a focus on IoT technologies, including Artificial Intelligence, 5G and LoRaWAN®, since 2011. With improved sensing capability and advanced IoT insights, we help customers worldwide optimize their business operation in a more efficient and sustainable way. In collaboration with a global network of distributors and system integrators, we are committed to building open ecosystems and accelerating IoT strategies to the next level.
You can also visit our website:  www.milesight.com
About Cohesive Technologies
Cohesive Technologies is a leading provider of Telecom, Security, Paging, Networking, AV and Home Automation for businesses of all sizes. Cohesive Tie-up with Technology Partners which not only helps to provide a variety of VoIP solutions but also ensures state-of-the-art technology solutions with scalable and reliable systems. The main goal is to make communication easy and cost-effective so that businesses can thrive and continue to run smoothly.
For more information, please visit www.cohesiveglobal.com or connect with us on Facebook, LinkedIn.