Cohesive Technologies to Exhibit with Wi-Tek at Convergence India 2023
New Delhi, India – Cohesive Technologies, a leading provider of unified communication solutions, announced today that it will be exhibiting at Convergence India 2023 in collaboration with Wi-Tek, a global provider of networking solutions. The event is set to take place from March 27-29, 2023 at the Pragati Maidan Exhibition Centre in New Delhi. Cohesive Technologies and Wi-Tek will be exhibiting at Hall No. 5, Booth #D484. For more information on the event, please visit https://www.convergenceindia.org/.
Convergence India is one of the largest technology events in India, and it brings together industry experts, thought leaders, and innovators from across the world. Cohesive Technologies will be showcasing its latest unified communication solutions in conjunction with Wi-Tek's cutting-edge networking solutions.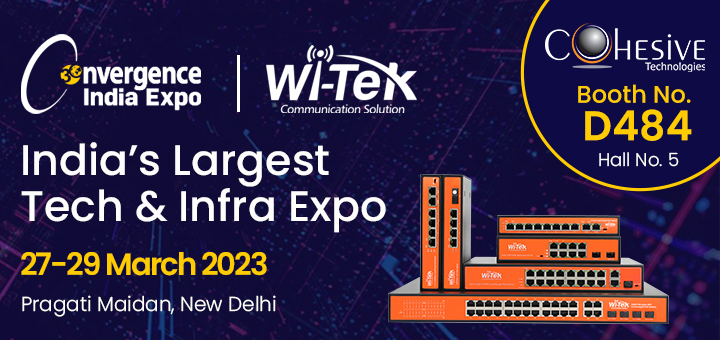 Cohesive Technologies and Wi-Tek aims to offer customers an integrated communication and networking experience that is designed to enhance productivity and collaboration. Visitors to the Cohesive Technologies booth will be able to see first-hand how the company's unified communication solutions integrate with Wi-Tek's networking solutions to provide a seamless and efficient communication experience.
WI-Tek's Long-Range PoE switches, featuring exclusive patented network extension technology, utilize commonly existing twisted pairs to support data transmission of up to 250 meters, breaking the hundred-meter transmission limit of twisted pairs. Additionally, the switches offer Gigabit SFP uplink ports to meet the transmission demands of up to a few tens of kilometers. With WatchDog applications and high PoE output, our new PoE switch offerings boast long-range capability, providing IP infrastructure with increased stability and intelligence, resulting in smart AV solutions with long MTBF.
Cohesive Technologies integrates and designs solutions that use state-of-the-art technology and deliver value-added solutions, based on customer insights and our promise of Convergence.
About Wireless-Tek Technology
Wireless-Tek Technology Limited. Located in Shenzhen, China, is commonly known as Wi-Tek which is dedicated in research and application of commercial network communication equipment. The product line covers PoE Switch, Wireless Access Point, CPE, Fiber with CE, FCC, RoHS certificates. Wi-Tek provides fast, safe and easy-maintenance network solution and equipment to SME industries of government, hospital, shopping mall, education and health-care around the world.
Founded in 2009, Wi-Tek has got an amazing growth on the basis of 80+ professional R&D engineers, 5000sqm self-owned independent factory and 200 diligent working force. By providing high quality and unexpected functional products, reliable service, cost-effective price, Wi-Tek built up a solid, long-term friendly business relationship over 50+ countries within 9 years.
For more information, please visit https://www.wireless-tek.com/
About Cohesive Technologies
Cohesive Technologies is a leading provider of Telecom, Security, Paging, Networking, AV and Home Automation for businesses of all sizes. Cohesive Tie-up with Technology Partners which not only helps to provide a variety of VoIP solutions but also ensures state-of-the-art technology solutions with scalable and reliable systems. The main goal is to make communication easy and cost-effective so that businesses can thrive and continue to run smoothly.
For more information, please visit www.cohesiveglobal.com or connect with us on Facebook, LinkedIn.