Cohesive Technologies at InfoComm India 2022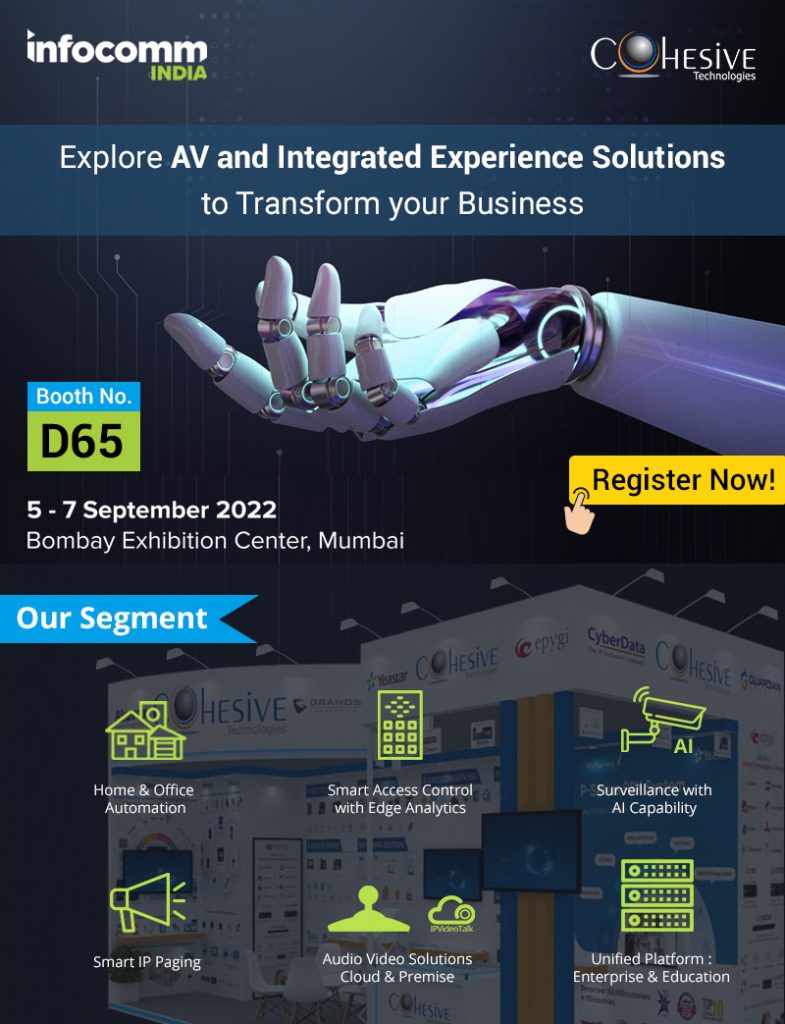 INFOCOMM INDIA 2022 | BOOTH NO. D65, BEC, MUMBAI 05-07 SEPTEMBER 2022
Join us at Booth No. D65, Infocomm Mumbai, India, The transformative power of professional AudioVisual (Pro-AV) and Experiential Communications Technology (ICT) on VoIP Platform is felt in every industry but taking it from Conference rooms to each Desk or every room for all industries spreading from SOHO to Large Corporates with user base from an Employee /House Hold owner to the Top /Middle Management of any Large Corporate with Cutting-edge solutions and helping them to streamline business operations, in turn boosting efficiency in the workplace. InfoComm India 2022 is where you can tap into opportunities to harness the power of these solutions. Discover game-changing innovations blended with VoIP Platform will be some thing very new for all AV Partners and Users.
ABOUT COHESIVE TECHNOLOGIES
Cohesive Technologies is a renowned Global Telecom service provider working on the platform of IP and VoIP. We are working with our technology partners like Akuvox, Cyberdata, Epygi, Grandstream, Guardian Telecom, Milesight, Planet, Tonmind, Wi-Tek and Yeastar  who support us in offering innovative products and solutions for the premise or Cloud-based requirements.
For more information, please visit www.cohesiveglobal.com for more information or connect with us on Facebook, LinkedIn and Twitter.
To know more about the Event and for Registration, Please click here