P-Series Update (May 2023): New Linkus Desktop Client, Microsoft Teams and Outlook Integration, and More
Welcome to May! This month, we have a big bundle of exciting new features on the P-Series PBX System for you, including:
New Linkus Desktop Client
Video Calls on Linkus Mobile Client (iOS)
Door Phone Video Preview on Linkus Web/Desktop Client
Microsoft Teams Integration
Outlook Integration
Upgraded Azure Active Directory Integration
PBX Provisioning Template
Two-Factor Authentication
Global Anti-hacking IP Blocklist
Hot Desking
Without further ado, let's dive right in to see how they can bring new possibilities to your business.
Join Our Live Stream for a Complete Walkthrough
There will be a live stream on our YouTube Channel on May 11, 2023, at 9:00 a.m. GMT featuring an in-depth introduction to the exciting new features and a live demo. Stay tuned, save your date, and we'll see you then!
New Linkus Desktop Client
The highly-anticipated new Linkus Desktop Client for P-Series PBX System has finally arrived! With its even more sleek, modern, and user-friendly interface, it is ready to transform your Windows or macOS computer into a feature-rich phone, allowing users to make and receive calls with a wide range of communication capabilities.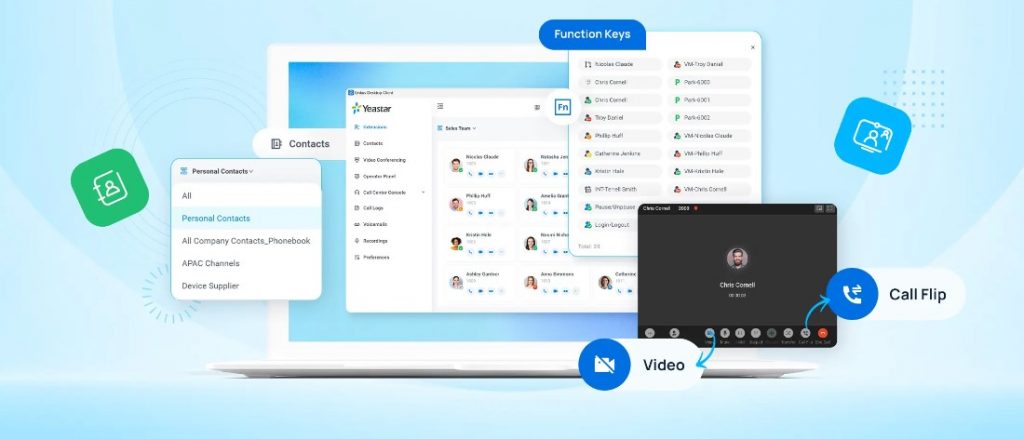 You have a host of call control features at your fingertips, such as call transfer, hold, mute, recording, etc. as well as more advanced efficiency-enhancing and UC features such as Presence, Contacts Directory, CTI, Function Keys, and Call Flip. Moreover, the new Linkus Desktop Client is fully integrated with Microsoft Teams and Outlook, effectively complementing the calling experience on these platforms.
Video Calls on Linkus Mobile Client (iOS)
You can now initiate a video call right from your mobile phone and receive video calls with real-time push notifications. Switching from a voice call to a video call is just a tap away, providing a more consistent and immersive communication experience. This feature allows users to feel more connected and engaged with their colleagues and customers by maintaining face-to-face communication despite physical distance.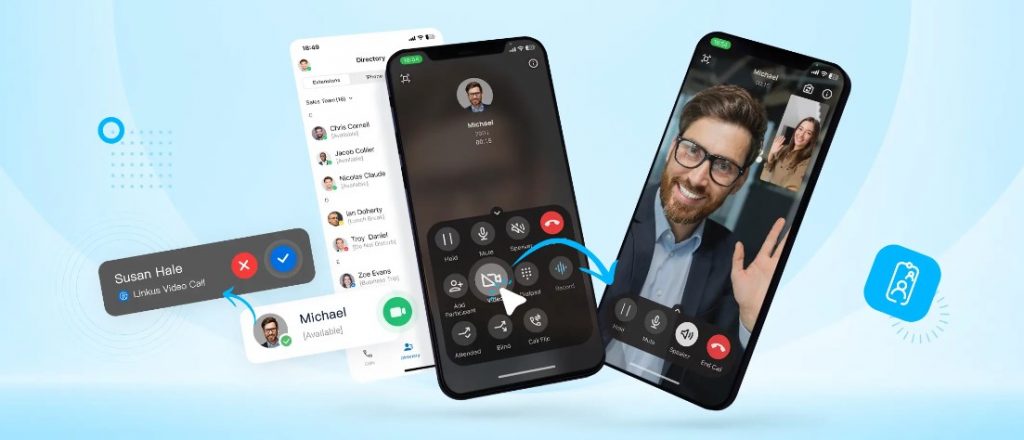 Note: Video calls on Linkus Mobile Client is currently supported on iOS devices only. Support for Android devices is coming soon.
Door Phone Video Preview on Linkus Web/Desktop Client
Tired of constantly getting up from your desk to answer the door phone, only to be greeted by an unexpected visitor?  With this feature, you longer have to wonder who's coming into your office on the other end of the line. You can simply preview who's visiting on Linkus Web Client, Linkus Desktop Client, and Google Chrome Extension before answering the video call for greater convenience and control.
Note: Support for Linkus Mobile Client is on the way.
Microsoft Teams Integration
We are now offering a free embedded calling app on Microsoft Teams that comes with no extra charges! Now you can manage calls with greater ease and convenience right on Microsoft Teams with all the necessary features at hand.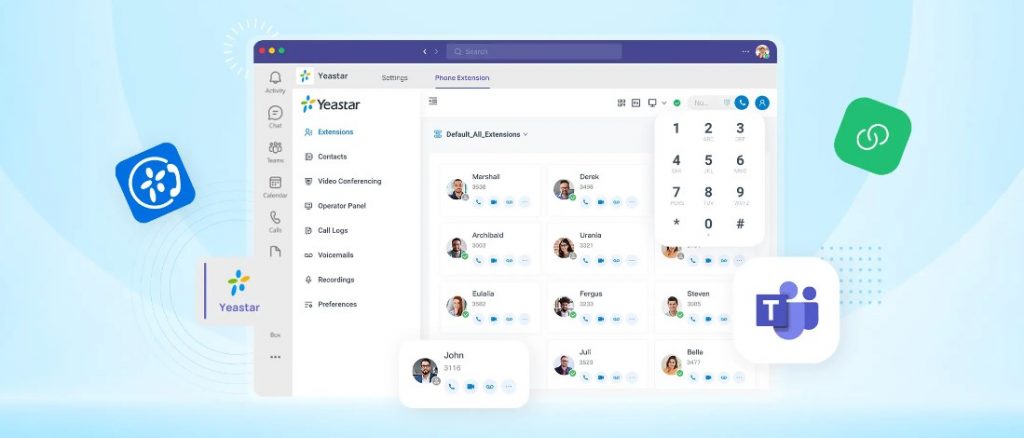 By installing "Yeastar Linkus" through Microsoft AppSource, you'll have a feature-rich PBX right on your familiar Teams interface. Then you can see all of your company contacts, personal contacts, and contacts synced from Microsoft 365, CRM, and other platforms in one place and make calls directly. The calls will be made through Linkus Desktop Client.
The best part of this integration? There are no Teams calling licenses needed, as long as you are a user of Microsoft 365 Business Basic and above.
Note: Users of P-Series Appliance and Software Edition also need to enable Remote Access Service and Yeastar Supplied Domain Name to make it work.
Outlook Integration
Connect P-Series PBX System to Outlook to streamline your communication workflow and increase productivity. The two systems can complement each other, allowing you to seamlessly manage both your phone and email communications from a single entry.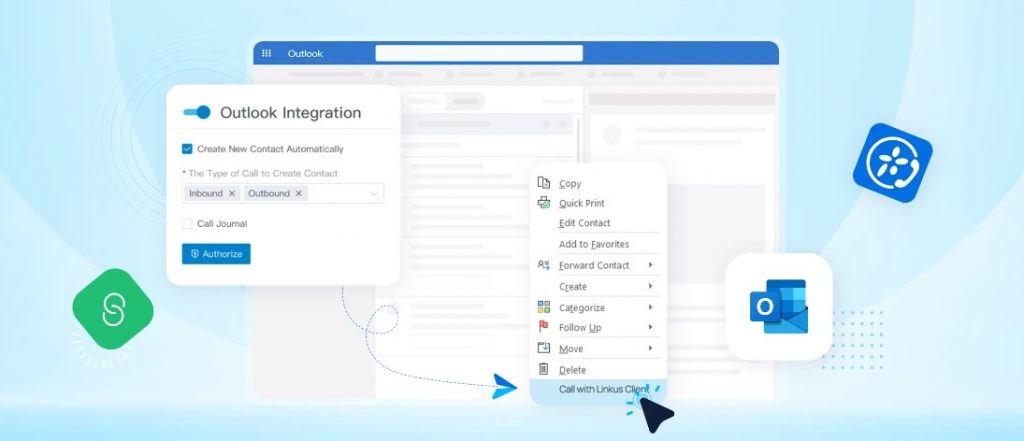 Click to call directly from your Outlook contact list or mailbox
Receive screen pop-ups for incoming calls from your Outlook contacts
Instantly track and log every call to your Outlook contacts' notes
Automatically create first-time dial-in contacts in Outlook
Synchronize CRM contacts to a specific P-Series PBX phonebook
Note: The Outlook integration requires Outlook PC Edition (Outlook 2016 and above) and Windows Edition (Win10/Win11) to work.
Upgraded Azure Active Directory Integration
As you may know, customers can sync users, organizational units, and groups from Azure Active Directory to P-Series PBX with extensions being matched or created automatically. They can also log in to their Linkus Mobile and Web/Mobile Clients with Single Sign-on (SSO) to save time and enhance account security.
With the latest update, both personal and shared mailbox contacts can be synced to the P-Series directories. The extension presence status will also be updated based on Microsoft Teams status. Now, P-Series PBX and Microsoft 365 integration has just got stronger.
PBX Provisioning Template
No more repetitive tasks of configuring each customer's PBX systems from scratch! Now you can easily create and apply provisioning templates that automate the configuration process.
Right on Yeastar Central Management (YCM), go to "Repository" to customize your templates which are applicable to P-Series Appliance, Software, and Cloud Edition. Configuration items include extensions, trunks, call control settings, IVR, PBX settings, and system date and time. After the templates are ready, simply schedule tasks to take effect on multiple PBXs at once.
For P-Series Appliance and Software Edition, the Remote Management Premium account is required to access this feature.
Two-Factor Authentication
Two-Factor Authentication (2FA) is an extra layer of security that helps protect your accounts by requiring two different types of information to log in. The first factor is what you already use to log into your account, like a password or a PIN. The second factor is usually a code that is sent to your devices.
Yeastar now supports 2FA on P-Series PBX System, Linkus UC Clients, and Yeastar Central Management. With 2FA enabled, users can complete the process either using an authenticator app on smartphones or via email. They can also save trusted devices that can skip the 2FA. It's just like having a double lock on your account to keep it safe.
Global Anti-hacking IP Blocklist
PBX are often targeted by hackers, who may attempt to crack extension registration passwords, SSH, and more. They often use multiple identical IP addresses to launch attacks on common default ports over the public internet. The Yeastar Global Anti-hacking IP Blocklist is designed to prevent such attacks and further enhance system security.
Once enabled, this feature allows P-Series PBX to automatically download a blocklist on a weekly basis to block requests from those sources. You can choose to participate in this program by reporting your own blocklisted IP addresses to the central database. Yeastar will analyze these suspicious IP addresses and add them to the global blocklist.
Hot Desking
As work arrangements become increasingly flexible nowadays, it is common for multiple employees to share desks, computers, phones, and other devices. This Hot Desking feature allows employees to make and receive calls with their extension's caller ID and personalized routing strategy on shared desk phones. They can simply log in to a hot desking phone to make it their own extension, with access to personal extension accounts, voicemails, contacts, and other settings, and log out when they leave.