Cohesive Technologies to Exhibit with Epygi at Convergence India 2023
New Delhi, India and Altamonte Springs, Florida, USA – Epygi Technologies, a worldwide provider of Integrated Communications Solutions, is excited to announce that they will be showcased by Cohesive Technologies, at Convergence India 2023, the premier technology event in India. The company will showcase its latest products and solutions in collaboration with Epygi, a global provider of IP PBX and VoIP gateway solutions.
Convergence India 2023 is the most anticipated technology event in India and is expected to attract thousands of industry professionals, government officials, and media representatives from across the country. The event will feature the latest innovations in telecommunications, networking, and IT and is an important platform for companies looking to showcase their products and services.
Cohesive Technologies will be exhibiting alongside Epygi, highlighting their joint solutions for unified communication and IP PBX. Visitors to the booth will see firsthand how Cohesive Technologies' unified communication solutions integrate with Epygi's IP PBX and VoIP gateway solutions to provide a comprehensive suite of features, including call routing, voicemail, and IVR. Starting with the QX20 and its enterprise IP PBX, QX5000, Epygi has a solution for almost every communication need. The QX20 is great for very small offices, and the QX500 fills the gap for offices with more than two hundred employees. As for the QX3000, it is engineered to service large offices of up to 3000 users and to support up to 500 concurrent calls. With the award-winning QX50, QX200, and its QX line of gateways, you can have it all under ONE VENDOR.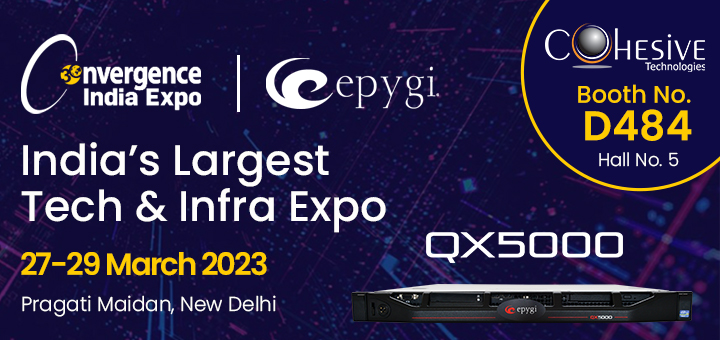 Convergence India 2023 will be held from March 27-29, 2023 at the Pragati Maidan Exhibition Centre in New Delhi. Cohesive Technologies and Epygi will be exhibiting at Hall No. 5, Booth #D484. For more information on the event, please visit https://www.convergenceindia.org/.
Cohesive Technologies integrates and designs solutions that use state-of-the-art technology and deliver value-added solutions based on customer insights and our promise of Convergence. Cohesive Technologies acts as a centralized system for a range of SIP-enabled devices.
About Epygi Technologies
Epygi Technologies, LLC, a worldwide provider of award-winning IP PBXs, Gateways and ecQX Cloud Services, supporting small businesses to enterprise's telephony needs, is a private US company founded in 2000 and has its headquarters in Altamonte Springs, Florida. Reliable, secure and easy to install and use, the Epygi products offer users outstanding benefits and an unparalleled range of features at very economic prices. Customers are able to improve their productivity, lower operating expenses and enhance their image while affording the latest in telecommunications equipment. Visit us on our website, follow us on Twitter, like our page on Facebook or join our LinkedIn group.
For more information, visit https://www.epygi.com/.
About Cohesive Technologies
Cohesive Technologies is a leading provider of Telecom, Security, Paging, Networking, AV and Home Automation for businesses of all sizes. Cohesive Tie-up with Technology Partners which not only helps to provide a variety of VoIP solutions but also ensures state-of-the-art technology solutions with scalable and reliable systems. The main goal is to make communication easy and cost-effective so that businesses can thrive and continue to run smoothly.
For more information, please visit www.cohesiveglobal.com for more information or connect with us on Facebook, LinkedIn.