Cohesive Technologies to Exhibit with Grandstream at IFSEC India 2022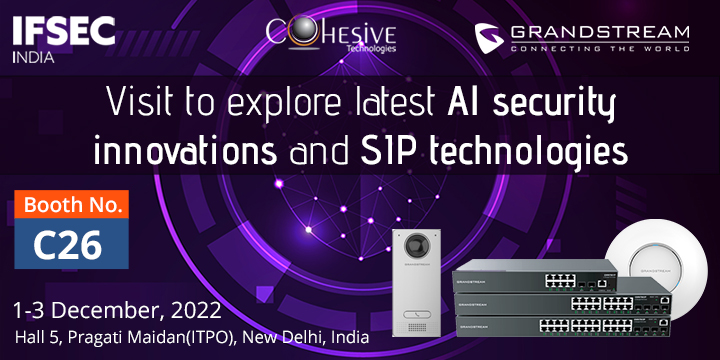 Delhi, India (November 1st,  2022) – Cohesive Technologies, a leading system integrator and distributor for VoIP products in India/APAC, announced today that they will exhibit along with Grandstream Networks at IFSEC INDIA 2022. The event will take place on 1st – 3rd December, 2022 at Pragati Maidan in Delhi, India. All attendees can visit booth number C26. The stall will showcase all of Grandstream's powerful yet easy-to-manage voice, video, data, networking and mobility solutions, etc.
This year Grandstream with Cohesive Technologies will make the visitors and delegates aware of innovative products of VoIP and the value-added benefits each industry can receive from the true convergence of all products at the stall. Come attend the 3-day event of IFSEC India to explore and experience the FUTURE of Security & Conference industry.
This show provides organizations with multiple high value opportunities to capitalize & penetrate in India's lucrative Security Industry, Interactions with the speakers, visitors, and delegates will surely leave you with enough arsenal to draw your business plan in the world order of Indian Market.
Grandstream will showcase its new launches i.e. Audio/Video Door Phone (GDS 37xx Series), Network Switches (GWN 78xx Series), SIP Surveillance (GSC 36xx Series), Wi-Fi 6 Access Points (GWN76xx Series), GWN7624 which offers 2.4G 2×2:2, 5G 4×4:4 MU-MIMO technology, and much more.
Cohesive Technologies integrates and designs solutions that use state-of-the-art technology and deliver value-added solutions, based on customer insights and our promise of Convergence. Cohesive Technologies acts as a centralized system for a range of SIP-enabled devices. These devices go beyond what telephony products usually support such as surveillance devices, card readers, paging systems, cameras, and door stations.
About Grandstream Networks
Grandstream Networks, Inc. has been connecting the world since 2002 with SIP Unified Communications products and solutions that allow businesses to be more productive than ever before. Our award-winning solutions serve the small-to-medium business and enterprises markets and have been recognized throughout the world for their quality, reliability, and innovation. Grandstream solutions lower communication costs, increase security protection, and enhance productivity. Their open standard SIP-based products offer broad interoperability throughout the industry, along with unrivaled features and flexibility.
Visit www.grandstream.com for more information
About Cohesive Technologies:
Cohesive Technologies is a solution provider of VoIP and unified communication Platforms. Cohesive Tie-up with Technology Partners like Akuvox, Akubela, Cyberdata, Epygi, Grandstream, Guardian Telecom, Milesight, Planet, Tonmind, Wi-Tek and Yeastar  not only helps to provide a variety of VoIP solutions but also ensures state-of-the-art technology solutions with scalable and reliable systems. The main goal is to make communication easy and cost-effective so that businesses can thrive and continue to run smoothly.
For more information, please visit www.cohesiveglobal.com for more information or connect with us on Facebook, LinkedIn.