Cohesive Technologies to Exhibit with Guardian Telecom at IFSEC India 2022
Delhi, India (November 1st, 2022) – Cohesive Technologies, a leading System Integrator and Distributor of VoIP products in India/APAC, announce today that they will be exhibiting with Guardian Telecom at "IFSEC INDIA 2022". It is surely the right platform for the businesses to move towards advancement and learn new benchmarks of the Security & Conference Industry.
This year Guardian Telecom with Cohesive Technologies will make the visitors, delegates aware of innovative products of VoIP & Surveillance and the essentially desired Security features their products have.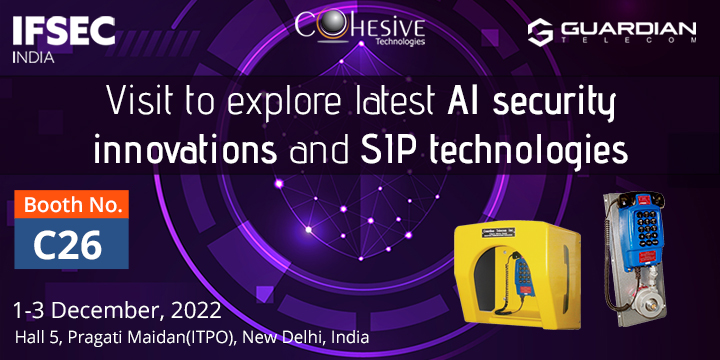 Cohesive Technologies along with Guardian Telecom will showcase Guardian Telecom DTT/DTR Series Desk/Wall VoIP Telephone & Guardian Telecom EXT Series Explosion Proof Telephone in south Asia's largest security expo & conference industry, where Guardian Telecom's DTT/DTR Series comes in both Hazardous & Non-Hazardous VoIP telephone with silicon keypad and armored handset cord is designed to provide safe, reliable communication. Guardian's EXT-401 Explosion Proof Telephone is coupled with our line powered CE20 Explosion Proof Ringer and a Back Plate.
Along with the Explosion Proof Telephone, Cohesive Technologies is also going to exhibit OGP SERIES Blue Light Emergency/Assistance Outdoor Help Point Pedestal (OGP-Series), 9′Free Standing Pedestal. 316 stainless steel base is designed to breathe out condensation to prevent internal moisture build up within the pole. The OGP Outdoor Help Point Tower was designed to provide reliable communications in outdoor environments subject to vandalism, moisture, dust and corrosive chemicals.
Guardian Telecom is offering you a new standard in help point pedestal design, reliability, safety, quality and value.
Come to 3-day exhibition of IFSEC India to explore all the other innovative products of Guardian Telecom.
Details of Cohesive Technologies participation at the IFSEC India 2022:
Where: The event will take place at Pragati Maidan, Delhi all attendees can visit at booth number C26. The stall will showcase all of the Guardian Telecom's powerful and innovative products.
South Asia's largest Security Expo & Conference, The Show has cemented its position within the global security market, IFSEC India will host 18000 Industry buyers & decision makers, it will host cutting edge products like CCTV & Video surveillance,
biometrics & RFID, Integrated systems, access control, Physical security, perimeter protection, intruder alarms, Home Automation, GPS Tracking, VMS, Drones and UAVs, Homeland Security and Safe Cities, AI and IOT & many more. 
 This show provides organizations with multiple high value opportunities to capitalize & penetrate in India's lucrative Security Industry, Interactions with the speakers, visitors, and delegates will surely leave you with enough arsenal to draw your business plan in the world order of Indian Market.
 When: The solution demos will take place from 10:00 A.M till 5:00 P.M from 1st December to 3rd December 2022.
 How:  To schedule a conversation with Cohesive Technologies, send an email at info@cohesiveglobal.com
About Guardian Telecom:
Guardian Telecom provides tough, trusted and true products worldwide that are used in harsh environments, extreme elements, critical infrastructure, safety-critical and mission-critical applications for rugged and reliable solutions. Guardian Telecom has been operating since 1985 and manufactures and customizes fully integrated ruggedized telecommunications equipment for nonhazardous, hazardous, Class I Division 1, Class I Division 2 areas and other hardened equipment applications. Guardian's tough and rugged phones, systems, enclosures and IP telecommunications equipment are certified specifically for the industrial and commercial markets.
For more information, please visit https://www.guardiantelecom.com/
About Cohesive Technologies:
Cohesive Technologies is a solution provider of VoIP and unified communication Platforms. Cohesive Tie-up with Technology Partners like Akuvox, Akubela, Cyberdata, Epygi, Grandstream, Guardian Telecom, Milesight, Planet, Tonmind, Wi-Tek and Yeastar  not only helps to provide a variety of VoIP solutions but also ensures state-of-the-art technology solutions with scalable and reliable systems. The main goal is to make communication easy and cost-effective so that businesses can thrive and continue to run smoothly.
For more information, please visit www.cohesiveglobal.com for more information or connect with us on Facebook, LinkedIn.