Cohesive Technologies to Exhibit with Akuvox at Smart Home Expo 2023
New Delhi, India – Cohesive Technologies, a leading provider of unified communication solutions, today announced its participation in Smart Home Expo 2023, the country's premier technology event. The company will be showcasing its latest products and solutions in collaboration with Akuvox, a leading provider of smart intercom and access control solutions.
Smart Home Expo is India's largest comprehensive trade show and conference to showcase Smart Home Technology from across the globe. Over 200+ brands take part every year to demonstrate game-changing Smart Home Technology, Home/Building Automation, Audio-Video and exciting technologies. The event will feature smart technology for offices, hotels, and building automation for companies looking to showcase their products and services.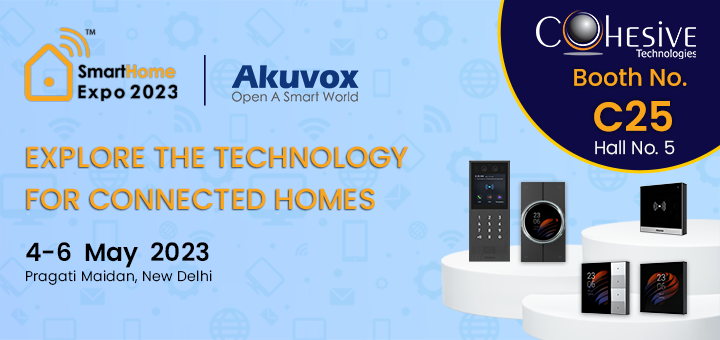 Cohesive Technologies will be exhibiting alongside Akuvox, showcasing its new launches including IP Video Door Phones, Face Recognition Door Phone, Smart Indoor Panels, IP Access Control Units, and much more helping homeowners make their homes safer, smarter, and more energy-efficient. The company is committed to delivering high-quality and innovative solutions that are tailored to meet the unique needs of each homeowner.
Akuvox will also showcase its new launches, including the Akubela HyPanel, Akubela Hypanel Lite, Akubela X933H Smart Panel with Zigbee 3.0, and the Akubela HyPanel Lux among others which enable us to offer homeowners a complete smart home experience that is secure, convenient and easy to use
The Smart Home Expo 2023 will take place from May 04-06, 2023, at the Pragati Maidan Exhibition Centre in New Delhi. Cohesive Technologies and Akuvox will be exhibiting at Hall No. 5, Booth #C25. For more information on the event, please visit https://www.smarthomeexpo.in/.
Cohesive Technologies integrates and designs solutions that use state-of-the-art technology and deliver value-added solutions, based on customer insights and our promise of Convergence. Cohesive Technologies acts as a centralized system for a range of SIP-enabled devices.
About Akuvox (XIAMEN) Networks Co., Ltd.
Akuvox is a global leading provider of Smart Intercom products and solutions. We are committed to unleashing the power of technologies to improve people's lives with better communication, greater security and more convenience. For more information, please visit https://www.akuvox.com/
About Cohesive Technologies
Cohesive Technologies is a leading provider of Telecom, Security, Paging, Networking, AV and Home Automation for businesses of all sizes. Cohesive Tie-up with Technology Partners which not only helps to provide a variety of VoIP solutions but also ensures state-of-the-art technology solutions with scalable and reliable systems. The main goal is to make communication easy and cost-effective so that businesses can thrive and continue to run smoothly.
For more information, please visit www.cohesiveglobal.com or connect with us on Facebook, LinkedIn.