Cohesive Technologies to Exhibit with Milesight at IFSEC India 2022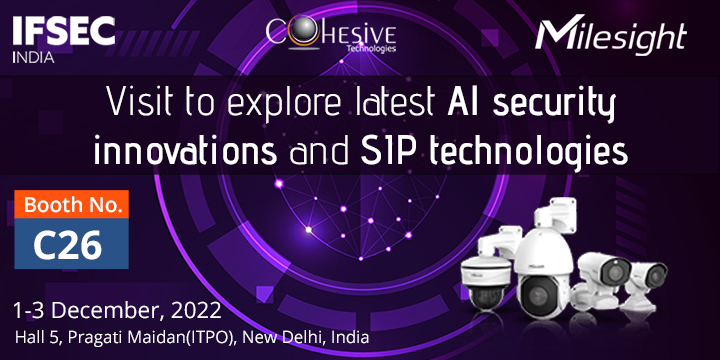 DELHI, INDIA (November 1, 2022) — Cohesive Technologies, a leading System Integrator and Distributor of VoIP, I.T & Surveillance products in India/APAC, announced today that they will be exhibiting with Milesight Technology at "IFSEC India 2019 – Visitors can grab the opportunity that Cohesive Technologies and Milesight will together showcase at stall number C26, HALL NO – 5 on 1st-3rd December, 2022 at IFSEC India at Pragati Maidan in Delhi, India.
Cohesive Technologies along with Milesight has opened up new business opportunities across the world. Apart from the product display Demonstration of Milesight.
This year Milesight with Cohesive Technologies will make the visitors, delegates aware of innovative products of VoIP & Surveillance and the essentially desired Security features their products have.
Here are some of the new launches which Milesight is going to showcase are 5G AIoT Suite, VMS Enterprise integrated with paging system – Make Video Management Simpler, Smart Crowd Management Solution, Radar AI-LPR Bullet camera where you can capture and read the plates accurately when vehicle approaches, Milesight Parking Management – a new and smarter way to do parking management in which it can detect whether the parking space is free or occupied with dual ultrasonic sensor where the status is transmitted to Milesight Gateway & much more.
About IFSEC
South Asia's largest Security Expo & Conference, The Show has cemented its position within the global security market, IFSEC India will host 18000 Industry buyers & decision makers, It will host cutting edge products like CCTV & Video surveillance, biometrics & RFID, Integrated systems, access control, Physical security, perimeter protection, intruder alarms, Home Automation, GPS Tracking, VMS, Drones and UAVs, Homeland Security and Safe Cities, AI and IOT & many more.
This show provides organizations with multiple high value opportunities to capitalize & penetrate in India's lucrative Security Industry, Interactions with the speakers, visitors, delegates will surely leave you with enough arsenal to draw your business plan in the world order of Indian Market.
About Milesight
Milesight is a professional high-tech enterprise specializing in the design and manufacture of best-in-class IP surveillance solutions with superior image quality, exceptional flexibility and reliability for the global market. Milesight offers a comprehensive IP video surveillance solution. The product line ranges from network cameras and NVRs to video management software from entry-level to high end, meeting demanding needs and various applications. Milesight is able to introduce innovative products and satisfy customers' needs with customized solutions. Milesight is a fast-growing R&D based company driven by a genuine passion and desire to offer the IP video surveillance market the highest quality standard products.
You can also visit our website:  www.milesight.com
About Cohesive Technologies
Cohesive Technologies is a solution provider of VoIP and unified communication Platforms. Cohesive Tie-up with Technology Partners like Akuvox, Akubela, Cyberdata, Epygi, Grandstream, Guardian Telecom, Milesight, Planet, Tonmind, Wi-Tek and Yeastar  not only helps to provide a variety of VoIP solutions but also ensures state-of-the-art technology solutions with scalable and reliable systems. The main goal is to make communication easy and cost-effective so that businesses can thrive and continue to run smoothly.
For more information, please visit www.cohesiveglobal.com for more information or connect with us on Facebook, LinkedIn.