Cohesive Technologies to Exhibit with Milesight at InfoComm India 2023
New Delhi, India – Cohesive Technologies, a leading provider of unified communication solutions, today announced its participation in InfoComm India 2023, the premier technology event. The company will be showcasing its latest products and solutions in collaboration with Milesight, a leading provider of IoT devices, network cameras and video surveillance solutions.
A strictly global event- with a purpose to make the Indian telecommunications industry stay up-to-date with ICT emerging trends, InfoComm India is Asia's biggest event and it is going to be India's only B2B platform to covers the whole continuum of Audio Visual and Experiential Communications Technology products, solutions and services catering to the requirements of the industry in India and beyond. It is providing technological innovation and thought-leadership. It will help to open the gates for a brighter as well as a highly connected world.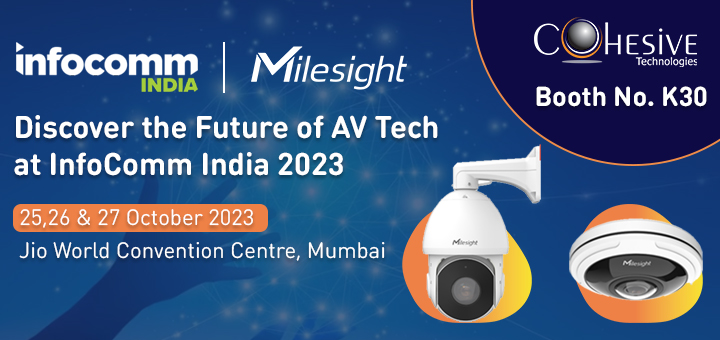 Cohesive Technologies, in collaboration with Milesight, will be unveiling its ground-breaking IoT solutions, designed to transform industries and enhance connectivity. Among the products to be showcased are the UG65 Semi-Industrial LoRaWAN® Gateway and the EM400-MUD Multifunctional Ultrasonic Distance Sensor, both of which represent the pinnacle of innovation in the IoT landscape.
The UG65 Semi-Industrial LoRaWAN® Gateway stands out as a versatile and robust solution for industrial IoT applications. With its advanced features and seamless connectivity, the UG65 Gateway ensures efficient data transmission, making it an ideal choice for businesses seeking reliable IoT solutions.
Milesight AQI ,Counting and Occupancy Sensors with Co Work Series S augment AV Collaboration and helps in Energy saving and delivering a Smart Building Solutions.  The IOT Technology of Milesight with Cohesive AV Solutions will help delivering the best of Technology and a new way of AV Collaboration .
InfoComm India 2023 will be held from October 25-27, 2023 at the Jio World Convention Centre, Mumbai. Cohesive Technologies and Milesight will be exhibiting at Booth No K30. For more information on the event, please visit https://www.infocomm-india.com/.
Cohesive Technologies integrates and designs solutions that use state-of-the-art technology and deliver value-added solutions, based on customer insights and our promise of Convergence. Cohesive Technologies acts as a centralized system for a range of SIP-enabled devices.
About Milesight
Milesight is a fast-growing high-tech company delivering smart IoT and video surveillance products with a focus on IoT technologies, including Artificial Intelligence, 5G and LoRaWAN®, since 2011. With improved sensing capability and advanced IoT insights, we help customers worldwide optimize their business operation in a more efficient and sustainable way. In collaboration with a global network of distributors and system integrators, we are committed to building open ecosystems and accelerating IoT strategies to the next level.
You can also visit our website:  www.milesight.com
About Cohesive Technologies
Cohesive Technologies is a leading provider of Telecom, Security, Paging, Networking, AV and Home Automation for businesses of all sizes. Cohesive Tie-up with Technology Partners which not only helps to provide a variety of VoIP solutions but also ensures state-of-the-art technology solutions with scalable and reliable systems. The main goal is to make communication easy and cost-effective so that businesses can thrive and continue to run smoothly.
For more information, please visit www.cohesiveglobal.com or connect with us on Facebook, LinkedIn.