Cohesive Technologies to Exhibit with Snom Technology at InfoComm India 2023
New Delhi, India – Cohesive Technologies, a leading provider of unified communication solutions, today announced its participation in InfoComm India 2023, the country's premier technology event. The company will be showcasing its latest products and solutions in collaboration with Snom, a leading provider of SIP unified communication solutions.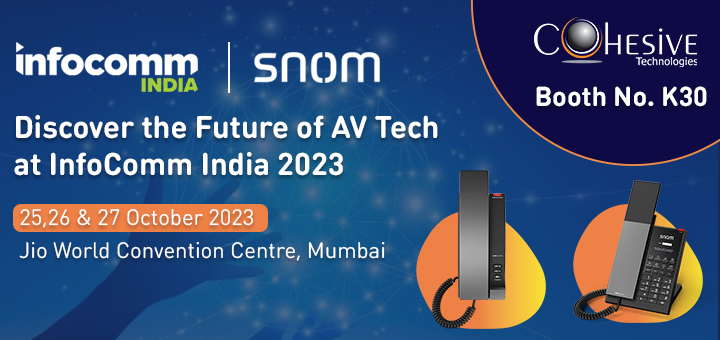 A strictly global event- with a purpose to make the Indian telecommunications industry stay up-to-date with ICT emerging trends, InfoComm India is Asia's biggest event and it is going to be India's only B2B platform to covers the whole continuum of Audio, Visual and Experiential Communications Technology products, solutions and services catering to the requirements of the industry in India and beyond. It is providing technological innovation and thought-leadership. It will help to open the gates for a brighter as well as a highly connected world.
Cohesive Technologies will be exhibiting alongside Snom, showcasing its new launches, including IP Phones (D7XX Series & D8XX Series), Expansion Modules (D7C & D7), and especially the recently launched Hotel Phones (Snom HD100 & HD350W), among other products. Visitors to the booth will have the opportunity to see firsthand how Cohesive Technologies unified communication solutions seamlessly integrate to provide a comprehensive suite of features, including voice and video calling, as well as conferencing.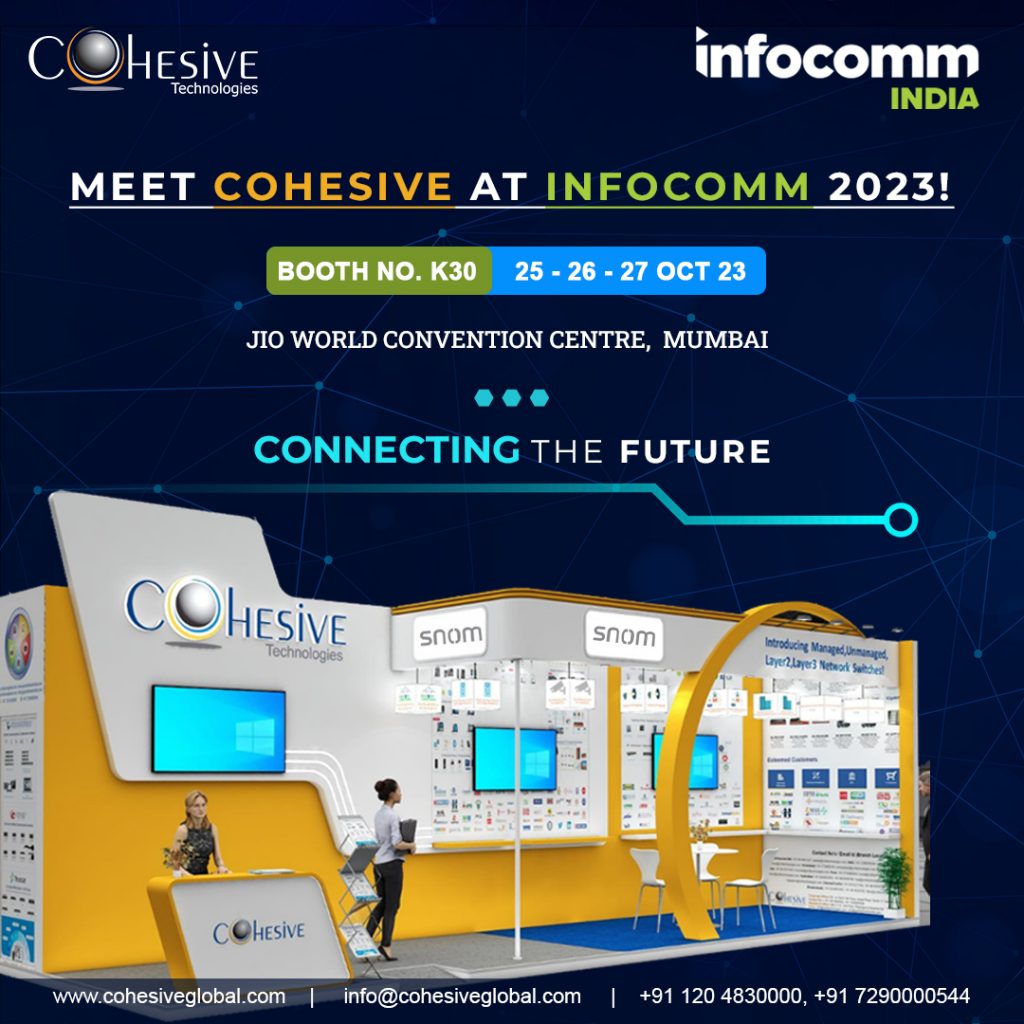 InfoComm India 2023 will be held from October 25-27, 2023 at the Jio World Convention Centre, Mumbai. Cohesive Technologies and Snom Technology will be exhibiting at Booth No K30. For more information on the event, please visit https://www.infocomm-india.com/
Cohesive Technologies integrates and designs solutions that use state-of-the-art technology and deliver value-added solutions, based on customer insights and our promise of Convergence. Cohesive Technologies acts as a centralized system for a range of SIP-enabled devices.
About Snom Technology
With over 10 million devices installed and offices in the Benelux, United Kingdom, France, Italy, Spain and South Africa, Snom Technology is a globally recognized manufacturer of IP telecommunications solutions for professional use.
Founded in 1997 and part of the VTech Group since 2016, the company continues to design and develop its products in Berlin and attaches great importance to quality and safety. Snom uses its 25 years of experience and innovative strength to tackle new mobility challenges and increasing digitalisation with cutting-edge technologies that are adapted to all communication needs and environments.
The company's worldwide sales network includes many renowned distributors and over 10,000 specialist dealers. They benefit from a dedicated partner program as well as personal remote and on-site support services that, alongside its leading technology, contribute to Snom's outstanding international reputation
For more information, please visit https://www.snom.com/en/
About Cohesive Technologies
Cohesive Technologies is a leading provider of Telecom, Security, Paging, Networking, AV and Home Automation for businesses of all sizes. Cohesive Tie-up with Technology Partners which not only helps to provide a variety of VoIP solutions but also ensures state-of-the-art technology solutions with scalable and reliable systems. The main goal is to make communication easy and cost-effective so that businesses can thrive and continue to run smoothly.
For more information, please visit www.cohesiveglobal.com or connect with us on Facebook, LinkedIn.