Cohesive Technologies to Exhibit with Tonmind at Convergence India 2023
New Delhi, India – Cohesive Technologies, a leading provider of unified communication solutions, today announced its participation in Convergence India 2023, the country's premier technology event. The company will be showcasing its latest products and solutions in collaboration with Tonmind, a fast-growing provider for IP PA system.
Convergence India 2023 is one of the largest technology events in India and is expected to attract thousands of industry professionals, government officials, and media representatives from across the country. The event will feature the latest innovations in telecommunications, networking, and IT, and is an important platform for companies looking to showcase their products and services.
Cohesive Technologies and Tonmind will showcase a new 15-watt SIP Ceiling Speaker with a microphone and Wall Mount Speaker. The Tonmind VoIP SIP Ceiling Mount Speaker is a highly cost-effective Power-over-Ethernet (PoE 802.3af) and Voice-over-IP (VoIP) public address indoor speaker that easily connects to existing local area networks with a single Ethernet cable connection.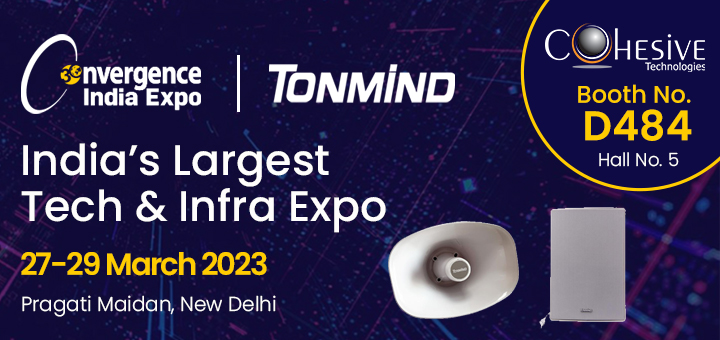 Along with the SIP ceiling and wall mount speaker, Cohesive Technologies will also be exhibiting the Tonmind 30 Watt Weather-Proof Outdoor Horn Speaker. The built-in 30W amplifier delivers loud and excellent sound. It can be used to play background music, announcements, security, or fire alarm linage. The standard SIP protocol allows for easy integration with other SIP devices.
Tonmind IP Paging Microphone SIP-M20 is designed with elegant cast aluminum panel and cold rolled sheet shell. It converts the input analog audio signal into IP audio stream output, thus can realize remote control and management of terminal equipment whereas IP Paging Adapter SIP-T20 is simple which has built in 15W amplifier interface of MIC input,  Headset output,  Speaker output, GPIO Alarm input,  GPIO Alarm output, Relay Alarm output. The SIP Paging Adapter can connect analog speaker or amplifier so as to realize SIP Speaker or SIP Intercom function. Besides, it can also connect Alarm and MIC. The Paging Adapter is compatible with VoIP devices and ONVIF VMS.
Convergence India 2023 will be held from March 27-29, 2023 at the Pragati Maidan Exhibition Centre in New Delhi. Cohesive Technologies and Tonmind will be exhibiting at Hall No. 5, Booth #D484. For more information on the event, please visit https://www.convergenceindia.org/.
About Tonmind
XIAMEN TONMIND TECHNOLOGY CO., LTD (TONMIND), since its founding in 2014, well known as high-tech enterprise, is a fast-growing provider for IP PA system. With R& D center in Xiamen Software Center, over 50% office staff are professional engineers. TONMIND has been committed to providing high quality network speakers which has wide application in multiple fields including school, commercial building, office, hotel, large venues, hospital etc.
TONMIND is concentrating on the IP network audio technology. With continuous technological innovation, we have been exploring the improvement and breakthrough of product performance. Our products have gained over 30 patents certification. Over 12000 ㎡ factory provides guarantee for strict quality control. Professional R&D team and customer service team ensures strong support. We aim to deliver excellent IP speakers with thoughtful customer service.
For more information, please visit https://www.tonmind.com/.
About Cohesive Technologies
Cohesive Technologies is a leading provider of Telecom, Security, Paging, Networking, AV and Home Automation for businesses of all sizes. Cohesive Tie-up with Technology Partners which not only helps to provide a variety of VoIP solutions but also ensures state-of-the-art technology solutions with scalable and reliable systems. The main goal is to make communication easy and cost-effective so that businesses can thrive and continue to run smoothly.
For more information, please visit www.cohesiveglobal.com or connect with us on Facebook, LinkedIn.