Cohesive Technologies to Exhibit with Grandstream at InfoComm India 2022
A strictly global event- with a purpose to make the Indian telecommunications industry stay up-to-date with ICT emerging trends, InfoComm India is Asia's biggest and most influential trade expo focusing on delivering technology solutions along with the Broadcast, and Digital Media industry. It is the only platform, which connects various sectors like Telecom, Broadcast, Cable and Satellite TV, Cloud & Big Data, IoT, Digital Homes, Mobile devices, Film and Radio, Content Creation, Management and Delivery, etc. It provides an opportunity to listen to prominent global industry leaders to discuss the growth and opportunities in Digital India.
Cohesive Technologies, a leading system integrator and distributor for VoIP products in India/APAC, announced today that they will exhibit along with Grandstream Networks at InfoComm INDIA 2022. The event will take place on September 5-7 at Bombay Exhibition Centre in Mumbai, India. All attendees can visit booth number D65. The stall will showcase all of Grandstream's powerful yet easy-to-manage voice, video, data, networking and mobility solutions, etc.
This year Grandstream with Cohesive Technologies will make the visitors and delegates aware of innovative products of VoIP and the value-added benefits each industry can receive from the true convergence of all products at the stall. Come attend the 3-day event of InfoComm India to explore and experience the FUTURE of ICT in IP Telephony.
Grandstream will showcase its new launches i.e. IP Phone (GRP 26xx Series), Wi-Fi 6 Weatherproof Long-Range Access Points (GWN Series), IP PBX (UCM 6300 Series), Wi-Fi Portable Phones (WP Series), Android Video Phones (GXV Series), and much more.
Cohesive Technologies integrates and designs solutions that use state-of-the-art technology and deliver value-added solutions, based on customer insights and our promise of Convergence. Cohesive Technologies acts as a centralized system for a range of SIP-enabled devices. These devices go beyond what telephony products usually support such as surveillance devices, card readers, paging systems, cameras, and door stations.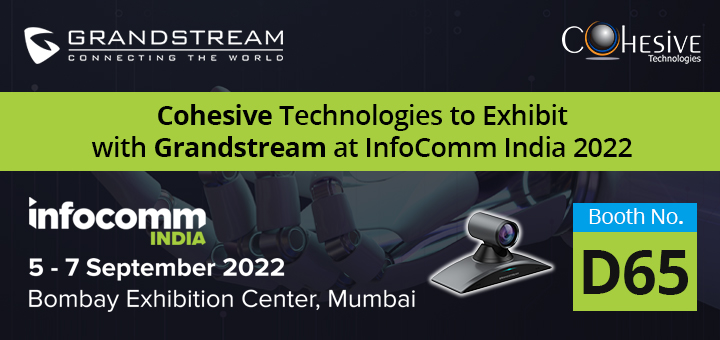 Details of Cohesive Technologies participation at the InfoComm India 2022
What: Cohesive Technologies will demonstrate with Grandstream?
Cohesive Technologies will demonstrate all enterprises' technology needs with Grandstream and also demonstrate the all communication, broadcast, and enterprise technology products of Grandstream. Such as VoIP Phones, VoIP Gateways, PBX System, Indoor/Outdoor Access Points, Video Door Phones, Wireless Access Point, Networking Solutions, Video Phone, Video Conferencing System, Door Intercom System and SIP Speakers which are most important for every type of business including the Audio Visual Solutions.
Where: The event will take place at the Bombay Exhibition Centre; Mumbai all attendees can visit at stall number D-65. The stall will showcase all of the Grandstream powerful yet easy-to-manage voice, video, data, and mobility solutions conversed on Audio Visual Platform.
It is going to be India's only B2B platform to covers the whole continuum of Audio Visual and Experiential Communications Technology products, solutions and services catering to the requirements of the industry in India and beyond. It is providing technological innovation and thought-leadership. It will help to open the gates for a brighter as well as a highly connected world.
Every year, delegates from across the globe attend the InfoComm India 2022 Summit where luminaries and experts share rising trends, technology updates and industry best practices. 
When: The solution demos will take place from 10:00 AM till 5:00 PM from 5 September to 7 September 2022.
How: To schedule a conversation with Cohesive Technologies, send an email at info@cohesiveglobal.com
About Grandstream Networks
Founded in 2002, Grandstream Networks is the leading manufacturer of IP voice/video telephony and video surveillance solutions. Grandstream serves the SMB and consumer markets with innovative products that lower communication costs, increase security protection, and enhance productivity. Our open standard SIP-based products offer broad interoperability in the industry, unrivalled features, flexibility, and price-performance competitiveness.
Visit www.grandstream.com for more information.
About Cohesive Technologies
Cohesive Technologies is a renowned Global Telecom service provider working on the platform of IP and VoIP. We are working with our technology partners like Akuvox, Cyberdata, Epygi, Grandstream, Guardian Telecom, Milesight, Planet, Tonmind, Wi-Tek and Yeastar who support us in offering innovative products and solutions for the premise or Cloud-based requirements.