Cohesive Technologies to Exhibit with Wi-Tek at IFSEC India 2022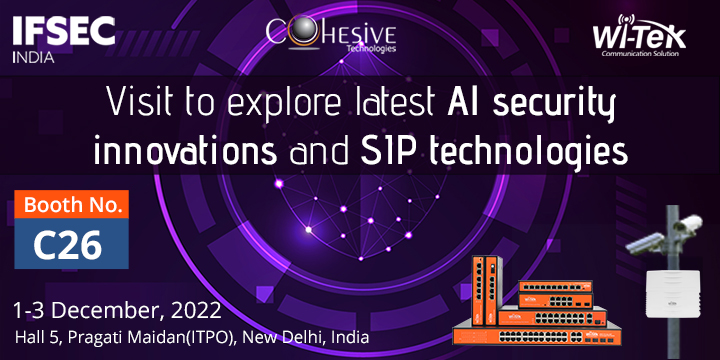 Delhi, (November 1, 2022) – Cohesive Technologies, a leading System Integrator and Distributor of Audio Visual products in India/APAC, announced today that they will be exhibiting with Wi-Tek at "IFSEC India 2022". It is surely the right platform for the businesses to move towards advancement and learn new benchmarks of the Audio Visual industry. Cohesive Technologies along with Wi-Tek will showcase the latest innovative products for Audio Visual industry such as 250m long-range transmission PoE switches, Weather-Proof, Industrial, solar switches and much more.
Due to the complex networking & monitoring environments, it's quite often to encounter the problems of inadequate transmission distances when actually executing the network project and doing the cabling and networking job as the distances of each IP terminal to the Server racks are different, some only a few meters, some hundred meters while some others more than 100 km. WI-Tek Long-Range PoE switches with exclusive patent network extension technology, use the common existing twisted pair, which can support upto 250 meters data transmission, break a hundred meters transmission limit of twisted pair. It also provides Gigabit SFP uplink ports to meet the demand of transmission upto few tens of kilometres. Our new PoE Switch offerings with WatchDog Applications, High PoE output along with long-range capability help giving IP Infra more stability and intelligence resulting in a smart AV Solutions with long MTBF.
Come to the 3-day exhibition of IFSEC India to explore all the innovative range of Wi-Tek products exclusively through Cohesive Technologies.
Details of Cohesive Technologies participation at the IFSEC India 2022:
Where: The event will take place at Pragati Maidan, Delhi. All attendees can visit at stall number C26. The stall will showcase all of the Wi-Tek's powerful and innovative products.
South Asia's largest Security Expo & Conference, The Show has cemented its position within the global security market, IFSEC India will host 18000 Industry buyers & decision makers, It will host cutting edge products like CCTV & Video surveillance, biometrics & RFID, Integrated systems, access control, Physical security, perimeter protection, intruder alarms, Home Automation, GPS Tracking, VMS, Drones and UAVs, Homeland Security and Safe Cities, AI and IOT & many more.
This show provides organizations with multiple high value opportunities to capitalize & penetrate in India's lucrative Security Industry, Interactions with the speakers, visitors, and delegates will surely leave you with enough arsenal to draw your business plan in the world order of Indian Market. 
 When: The solution demos will take place from 10:00 AM till 5:00 PM from 1st December to 3rd December, 2022.
 How:  To schedule a conversation with Cohesive Technologies, send an email at info@cohesiveglobal.com
About Wireless-Tek Technology:
Wireless-Tek Technology Limited. located in ShenZhen, China, is commonly known as Wi-Tek which is dedicated in research and application of commercial network communication equipment. The product line covers PoE Switch, Wireless Access Point, CPE, Fiber with CE, FCC, RoHS certificates. Wi-Tek provides fast, safe and easy-maintenance network solution and equipment to SME industries of government, hospital, shopping mall, education and health-care around the world.
Founded in 2009, Wi-Tek has got an amazing growth on the basis of 80+ professional R&D engineers, 5000 sqm self-owned independent factory and 200diligent working force. By providing high quality and unexpective functional products, reliable service, cost-effective price, Wi-Tek built up a solid, long-term friendly business relationship over 50+ countries within 9 years.
Website – http://www.wireless-tek.com/
About Cohesive Technologies:
Cohesive Technologies is a solution provider of VoIP and unified communication Platforms. Cohesive Tie-up with Technology Partners like Akuvox, Akubela, Cyberdata, Epygi, Grandstream, Guardian Telecom, Milesight, Planet, Tonmind, Wi-Tek and Yeastar  not only helps to provide a variety of VoIP solutions but also ensures state-of-the-art technology solutions with scalable and reliable systems. The main goal is to make communication easy and cost-effective so that businesses can thrive and continue to run smoothly.
For more information, please visit www.cohesiveglobal.com for more information or connect with us on Facebook, LinkedIn.