2N® IP Solo
2N® IP Solo is a fantastic and compact intercom that is developed for your sweet home. It can be efficiently used for your home. We come out with all amazing technical specification and you would get the authenticated product that makes us feel good. Once, you come to us you can get familiar with all optimistic features ensuring that you are at the right place.
Other available facets are like:

It can be efficiently along with CCTV to cover all the blind spots on your property.
The device allows the owner of the house to accept the intercom calls on the smart phone or tablets.
It also offers sharp picture throughout day and night.
One can also see the visitor quite easily. There will be no problem to view exploring the true entertainment making life full of joy and happiness.
There is only one fitted button but you will really feel great to know its features.
It can be easily attached to any home. In other words it can be said that it is easily attached to any house.
It has both unique technology and specific features that makes the whole thing exclusive.

Apart from these, you can find manifold other smarter features and we at Cohesive Technologies give you the best options.
Features & Benefits
Camera with night vision: See who is standing in front of your door, even in total darkness. Moreover, the camera is hidden from normal view. The intruder has no clue they're being monitored.
Easy integration into the home automation system: Easily link the intercom to the existing home automation system via open API.
Picture to email: 2N® IP Solo allows you to email snapshots of the visitor captured by the camera at the time of the call.
Both surface and flush mounted installations: Choose from two intercom installations according to what might suit better to your entrance.
External camera: Simply connect an external IP camera to the intercom to cover all the blind spots.
Calls to mobile phone or tablet: 2N® Helios IP Solo will also allow you to call a mobile phone or tablet, over the local network via wi-fi or over cellular data.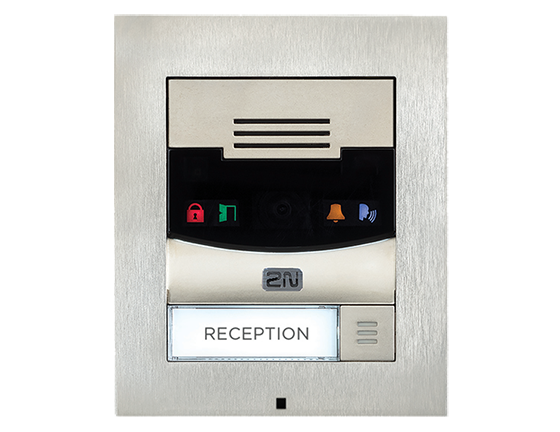 Similar Products
IP Intercoms
2N® IP SOLO PRODUCT INTRODUCTION
Get to know the features, capabilities and unique benefits of 2N® IP Solo intercom.
Watch the Video
Complementary Products
IP Intercoms
We're ready to lead you into the future of VoIP.
Get in Touch with Cohesive! Call Now

+91 120 4830000